Join the National LGBTQ Task Force Faith Works group on Facebook
Follow the Shower of Stoles on Twitter

Like the Shower of Stoles on Facebook
Join the IWR Discussion Forum
Locate Your Denomination's Welcoming Program
---
IWR Resources
A Time to Build Up
AVAILABLE FOR FREE DOWNLOAD!
---
All in God's Family: Creating Allies for Our LGBT Families
Giving you opportunities to gather with other members of your congregation to pray, to learn, to share, and to work together to transform your lives, your congregation, and your world into a loving place in which God's lesbian, gay, bisexual, and transgender families can thrive.
AVAILABLE NOW!
---
To Do Justice: A Study of Welcoming Congregations
In order to both highlight the vibrancy, faithfulness and power of the Welcoming Movement and to counter the 'false witness' of those who seek to quash this movement of hospitality and justice, the Institute for Welcoming Resources surveyed pastors and leaders of 1,200 Welcoming congregations to ask them about their work and witness.
AVAILABLE FOR FREE DOWNLOAD!
---
transACTION
A Transgender Curriculum For Churches and Religious Institutions
AVAILABLE FOR FREE DOWNLOAD!
---
Liturgical Resource

A Place in God's Heart...
A Place at Christ's Table
Worship Resources for the Welcoming Church Movement
---
Contact IWR
Faith in Action
And Yet... a testament to transgender persistence
A response from the National Religious Leadership Roundtable to "Created Male and Female," a letter from conservative religious leaders denying the reality of transgender lives
This past week, 20 conservative religious leaders, representing stridently anti-LGBTQI segments of Christian and Muslim faith communities in the U.S., published a statement on the website of the United States Conference of Catholic Bishops to proclaim their belief that being transgender is a false idea - and to assert there is only male and female.
And yet, millions of people of faith in the U.S. and throughout the world live a different reality that is true to them - they are transgender. They are young and old, some are thriving and some struggling, many are faith-filled and others have found only rejection in faith. The voices represented in this statement are in the minority of people of faith in this country as a majority affirm LGBTQ equality.
The religious leaders' statement proclaims that gender cannot be divorced from one's sex as male or female - a position that leads the thoughtful reader to ask, "Do they really understand what gender is?"
Read more of this document (PDF)
Majorities of Each Political Party Support LGBT Non-Discrimination Laws
Same-sex couples may now marry legally, but they can still be fired for being gay in 28 states. Many local and state lawmakers are working to update nondiscrimination laws to include protections for gay, lesbian, bisexual, and transgender people, and such measures would enjoy considerable public support. Roughly seven in ten (69 percent) Americans favor passing laws that would protect LGBT people against discrimination in jobs, public accommodations, and housing. Click here for more information.
Are Millennials Leaving Religion Over LGBT Issues?
The fact that most Millennials who are now religiously unaffiliated were raised in a religious tradition raises important questions about the forces responsible for this recent shift. PRRI's latest survey finds one reason for high rates of disaffiliation among Millennials is their perception about how religious institutions treat gay and lesbian people. Click here for more information.
Who Sees Discrimination? Attitudes on Sexual Orientation, Gender Identity, Race, and Immigration Status | Findings from PRRI's American Values Atlas
Most Americans believe minority groups experience a lot of discrimination in the United States today, although perceptions vary broadly by political affiliation and race. Roughly six in ten Americans believe immigrants (63%), transgender people (62%), gay and lesbian people (58%), and blacks (57%) face a lot of discrimination in the country today. This includes research on views of religion and same sex marriage and religious based service refusals. Click here for more information.
Most American Religious Groups Support Same-sex Marriage, Oppose Religiously Based Service Refusals
A newly leaked document shows the Trump administration at least has considered a sweeping executive order that would allow individuals and organizations who have religious or sincerely held moral objections to same-sex relationships or who deny the existence of transgender identity to discriminate against LGBT people without fear of legal consequences. New PRRI analysis, drawn from a data set of 40,509 interviews conducted throughout 2016 as part of PRRI's American Values Atlas, reveals that most American religious groups support same-sex marriage and oppose religiously based service refusals. Click here for more infromation.
Loves Makes A Family: IDAHOT 2017
May 17 is the International Day Against Homophobia, Transphobia and Biphobia. This year's theme is "Love Makes A Family." This year the central educational resource dispells the myth that homosexuality or being a LGBTI person is a "Western product" which counters the primary argument against acceptance of LGBTI people across Africa and around the world.
The United Nations' Free and Equal Campaign and the researchers at the Burke Center for International Relations at UCLA created this new educational resource for IDAHOT 2017.
We encourage you to share this educational resource within your social networks and on social media. The myth that being LGBTI is "from the West" invalidates the existence and human dignity of LGBTI in their country of origin. This myth contributes to stigma, discrimination and violence. So, dispelling this myth will help to create respect and safe places for LGBTI people and their families within their own communities, cultures and countries.
Click here for more information.
Innterconnectivity: Where Do We Go From Here? March 20
Everyone is invited for this LGBT faith and justice event on March 20 -- in person or live stream -- for a program exploring the intersectional connections of peace, justice, LGBTQ issues, environmentalism with faith.
Rev. Dr. Jane A Spahr, LGBT activist and pastor; Rev. Dr. J. Alfred Smith, Civil Rights icon and author; Annanda Barclay, More Light Presbyterians; and Floyd Thompkins, Center for Innovation in Ministry, SFTS will be exploring these issues together.
Join us from 7-8:30pm at First Presbyterian Church, 1140 Cowper St., Palo Alto, CA or watch the live stream at innovation.sfts.edu. For more information, to RSVP for the event, or the online live stream please go to this link.
Welcoming Church Program Leaders meet in Washington, DC
The Welcoming Church Program Leaders held their first gathering of the year in Washington, DC from March 9-10. The organizations represented at the gathering were the National LGBTQ Task Force, Believe Out Loud, More Light Presbyterians, Open and Affirming Coalition UCC, Affirm United, GLAD Alliance, Reconciling Works, Room for All, Brethren Mennonite Council for LGBT Interests, and Welcoming Community Network (WCN).
40th Celebration of LGBTQ Lives at Kirkridge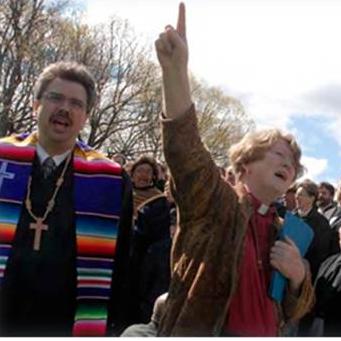 Over 40 years ago, Kirkridge Retreat and Study Center offered a clarion call of welcome to LGBTQ persons in faith communities. A special retreat celebrating the LGBTQ-affirming faith movement to mark this historic anniversary is being held on September 8 - 10, 2017.
Many of the "firsts" that have occurred in faith, nation, and military LGBTQ communities can trace their threads of origin back to the mountain. This is where leaders found their courage, strength, and voice. This is where their convictions were strengthened by the spiritual, emotional, and political awareness that blossomed during their time at Kirkridge. Virginia Mollenkott, John McNeill, Mary Hunt, Chris Glaser and Bishop Gene Robinson are among the faith leaders who are part of Kirkridge's LGBTQ history.
This celebration gathering will cast a wide net of welcome to all who wish to celebrate our 40-year LGBTQ history. Longstanding programs who have gathered at Kirkridge will also be invited to join the conversation, including: Sisterly Conversations, The Gay Men's Event, Agape, and the historic Gay and Lesbian Christian program. Along with creating space for spiritual reflection, we will ask ourselves and each other: what's next? What's next for LGBT faith and justice work at and beyond Kirkridge?
We will seek to equip our conference participants in more effective ways to counter the religious exemption laws and efforts to rescind the hard-earned LGBTQ equality achievements of the last three decades. We will also work to equip our conference participants with effective strategies to counter religious exemption laws and efforts to rescind the hard-earned LGBTQ equality achievements earned over the past three decades.
The retreat leader is Rev. Erin Swenson. Erin is a Presbyterian minister. She has served as pastor, counselor, chaplain, educator, and administrator within a variety of faith communities, including Adjunct Professor of Pastoral Care at Emory University's Candler School of Theology. Erin was the first transgender Co-Moderator of More Light Presbyterians, a LGBT-affirming network in the Presbyterian Church (USA). As a transgender woman she confronted the Presbyterian Church with her own transgender reality. Ultimately, she became the first-known mainstream Protestant minister to make a gender transition and retain ordained office, an event that was covered by USA Today and Newsweek.
For more information and to reserve your place at this retreat, go to: http://www.kirkridge.org/?e=event&eventId=26746&rDate=9/8/2017
Multi-Faith Work
NEW DOCUMENTARY!
"In Our Fullness: Faith and Activism Across Difference"
presents conversations with activists about faith-based work for radical social change around issues including sexuality, gender, race, class, and age. The video includes powerful testimonies from activists representing Christian, Muslim, Jewish and Native spiritualities, presenting challenges and successes in faith-based progressive-left coalition building.
Produced by the Institute for Welcoming Resources, a Project of the National LGBTQ Task Force, in partnership with the Macalester College Chuck Green Civic Engagement Fellowship.
For more information: info@WelcomingResources.org
Additional Ecumenical & Multi-Faith Groups Convened by IWR
---
New & Timely Resources
Resources from IWR Available
NEW RESOURCE NOW AVAILABLE!!!
Kol B'mishpachat Elohim
All in God's Family: A Jewish Guide for Creating Allies for Our LGBT Families
National LGBT Rights Organizations Launch First-Of-Its-Kind Jewish Curriculum for Faith Leaders
New Resource to Help Jewish Faith Leaders with Creating A Welcoming Community for LGBT people
WASHINGTON, DC, Aug. 28, 2014-Today, the National LGBTQ Task Force's Institute for Welcoming Resources, Keshet, COLAGE, and Family Equality Council released a curriculum designed to help Jewish congregations support and embrace lesbian, gay, bisexual, and transgender (LGBT) members and their families. Titled "Kol B'mishpachat Elohim / All in God's Family: A Jewish Guide for Creating Allies for Our LGBT Families," the multimedia curriculum provides tools to support Jewish congregations in their efforts to create inclusive institutions for LGBT people and their families.
"Our work to secure basic rights and full equality for LGBT people has advanced thanks to the commitment and compassion of our faith leaders and communities of faith," says David Lohman, Faith Work Faith Resource Manager at the National LGBTQ Task Force. "For people of faith, their religious community is the bedrock of their work for fairness, justice, and equality. We believe that LGBT people and their families deserve the same love and honor as all of God's beloved families. This curriculum will help congregations extend God's extravagant welcome to all of God's families - particularly LGBT families."
"Kol B'mishpachat Elohim" includes concrete tools to help leaders, including a step-by-step guide to supporting LGBT families of faith, and frameworks for facilitating group learning, community dialogue, text-study, and community action planning to highlight LGBT families in our communities. Additionally, the curriculum utilizes "Families Like Mine," a book about adults with LGBT parents written by Abigail Garner, whose father is gay; the youth-produced documentary "In My Shoes: Stories of Youth with LGBT Parents"; and a phototext exhibit "That's So Gay: Portraits of Youth with LGBT Parents."
"LGBT families are a part of every Jewish community," says Idit Klein, Executive Director of Keshet. "We are thrilled to make this new resource available together with our partners and look forward to seeing our families embraced and honored. Full inclusion makes a community stronger and more vibrant for all of us."
"Finding a welcoming and inclusive faith community is a priority for some LGBTQ parents," says Gabriel Blau, Executive Director of Family Equality Council. "And that can be difficult in many regions of our country, even today. Although these parents may want to raise their children in a community that shares their values and beliefs, they also want their children to be embraced. That's why we partnered to put together 'Kol B'mishpachat Elohim.' We know that there are increasing numbers of congregations out there that want to welcome our families and we want to give them any tools that we can to do so more fully."
"For youth and adults with LGBTQ parents, finding a faith community where your family is respected and reflected can be a challenge," says Meredith Fenton, previous program director for COLAGE. "COLAGE is pleased to be a partner on 'Kol B'mishpachat Elohim' and invites your faith community to use these tools to move beyond acceptance to full inclusion and celebration of LGBTQ families."
Companion Resources:
Building an Inclusive Church
Training and a Toolkit
A Welcoming Toolkit 2.0
Drawing upon thirty years of experience within a variety of Christian denominations, this Toolkit is a step-by-step guide to help facilitate a Welcoming Process in your local congregation. Biblically and theologically based, it uses tools of relational organizing, congregational assessment, conflict management and change theory.
AVAILABLE FOR FREE DOWNLOAD!
Building an Inclusive Church
Training Opportunities
March 30, 2019 - Des Moines, IA
---
Hearts Unbound: Engaging Biblical texts of God's Radical Love through Reader's Theater
by David R. Weiss
The overwhelming message of the Bible, in story after story, is that of God's radical love and welcome. Every time we think we know who's in and who's out, God does something to challenge those assumptions, to unbind our hearts and minds from old ways of understanding, and to draw the circle ever wider.
HEARTS UNBOUND invites you to explore ten of those inspiring stories of radical love and welcome. Entertaining, thought-provoking, and participatory, each session looks in-depth at the story, the historical context out of which it came, and some of the insights to be gained.
Designed to be used as a small-group Bible study, HEARTS UNBOUND uses the format of Reader's Theater. But fear not… no costumes, sets, or refined acting chops needed! All you need are six to eight people around a table, reading the script, having fun, all the while learning a great deal in the process.
All ten sessions are available for free download below.
National LGBTQ Task Force, HRC y UNID@S presentan nueva guía bilingüe dirigida a familias e iglesias latinas para educar sobre la orientación sexual, la identidad de género y la Biblia
En un esfuerzo por promover el diálogo dentro de las familias e iglesias latinas sobre la orientación sexual, la identidad de género y la Biblia, el National LGBTQ Task Force, la Campaña de Derechos Humanos y UNID@S, presentaron hoy una nueva guía bilingüe, A La Familia, Una Conversación Sobre Nuestras Familias, la Biblia, la Orientación Sexual y la Identidad de Género en una conferencia de prensa durante la 82va convención nacional de la Liga de Ciudadanos Latinoamericanos Unidos (LULAC por sus siglas en inglés) en Cincinnati, Ohio.
"LULAC está en contra de todo tipo de discriminación. Me siento muy orgullosa de mi estado natal al aprobar los matrimonios entre personas del mismo sexo", dijo Ralina Cardona, directora estatal de Nueva York para LULAC. "Como americanos, tenemos que aceptar nuestras diferencias. Es lo que separa a este gran país. No todos somos de la misma cultura, color, orientación sexual o religión, pero todos somos americanos y en nuestra unidad está nuestra fuerza, pero en nuestras diferencias está nuestro poder".
Más artículos sobre A La Familia en español
HRC, National LGBTQ Task Force and UNID@S release new bilingual guide on sexual orientation, gender identity and the Bible for Latino/a families and churches
In an effort to foster a dialogue with Latino/a families and churches on sexual orientation, gender identity and the Bible, the National LGBTQ Task Force, the Human Rights Campaign Foundation and UNID@S, unveiled today a new bilingual guide, A La Familia: A Conversation About Our Families, the Bible, Sexual Orientation and Gender Identity at a press conference during the League of United Latin American Citizens' 82nd National Convention in Cincinnati, Ohio.
Lesbian, gay, bisexual and transgender (LGBT) people often face unique challenges in Latino/a families and churches. To help in the process of acceptance and inclusion, A La Familia is born out of a profound desire to faithfully integrate an excluded group of people back into the life of their churches and families. This guide is written for two primary audiences: heterosexual people honestly struggling with LGBT issues and the Bible, and those whose sexual orientation and gender identity have marginalized them within their family or church or even both.
Before God, We Are All Family: a companion film for A La Familia
In 2011, the Task Force's Institute for Welcoming Resources, in close collaboration with Unid@s, the national Latin@ LGBT Human Rights Organization and the Human Rights Campaign's Religion and Faith Program, jointly released A La Familia, a bilingual conversation about our families, the Bible, sexual orientation and gender identity.
For more information about Before God, We Are All Family, click here.
---
The Institute for Welcoming Resources is delighted to be a partner in the transdenominational Believe Out Loud campaign. Believe Out Loud provides a much-needed national network for churches committed to welcoming and affirming lesbian, gay, bisexual, and transgender people as beloved children of God.
Believe OUT LOUD is based in a simple truth: Privately believing that LGBT persons should have an equal share in our church and society is not enough; we must publicly proclaim that belief. Believe OUT LOUD gives the congregations, parishes and missions of our denominations the means to do exactly that.
New Believe OUT LOUD web site!
---